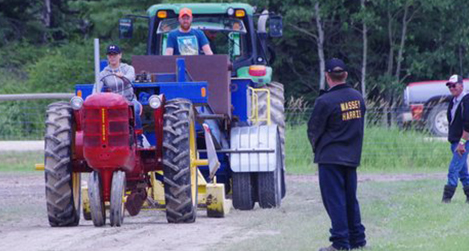 1.    All drivers must attend the safety meeting prior to the tractor pull.

2.    All activities are subject to general pulling rules.

3.    Any queries of the rules will be ruled on by designated track officials. Drivers are to watch the flagman as the tractor is hooked to the sled. The flagman is in control. Failure to follow his directions will result in disqualification.

4.    If the driver/tractor misses a pull on a two day total distance pull, a consecutive double pull on the second is not allowed.

5.    The tractor driver must be compliant with rule #2 of the General Pulling Rules. Signed waiver mandatory for all pullers.

6.    Tractors moving anywhere, anytime on grounds should be at a walking speed.

7.    The driver who weighed in with the tractor shall operate the tractor in a pull, in only one class.

8.    Tractor must be in neutral and clutch disengaged with brakes applied when being hooked or unhooked. The operator must have hands in the air. The operator will take up slack in chain when instructed by the flag person.

9.    Drivers are to remain on the seat of the tractor UNLESS the tractor cannot be operated from a sitting position.

10.    Drivers MUST have at least ONE hand on the tractor steering wheel at ALL times during the pull.

11.    Only the driver and contest officials will be permitted on the track area during the pull. Coaching from the sidelines is permitted but must not interfere with the pull in any way.

12.    Tractors must be farm stock with no engine modifications to increase horse power, and limited to models 1960 or earlier. No power booster fuels or pressurized containers are allowed (i.e. alcohol, propane factory installed systems only), nitrous oxide, or aviation fuel). Motor RPM will be limited to 25% of factory. Override to the governor will be allowed to a maximum of 25%.

13.    Hoods are to be on the tractor during the pull.

14.    Additional weights must be secured and must not at any time interfere with the operator or the controls of the pulling tractor. If this happens the driver will be disqualified for that pull.

15.    Hitch height will not be more than 20" from the ground to the top of the draw bar and point of hook-up must be a minimum of 18" from centre of rear axle. Sled must be hooked to tractor by use of clevis complete with pin or shackle, and must use the drawbar that tractor came with.

16.    The driver will be flagged if the two front wheels leave the track for an average height of 16" (inches). On row crop tractors the 12" height applies.

17.    Three point hitch arms cannot interfere with hooking and unhooking, if left on they must be raised to the highest position and secured, together so not flopping around.

18.    Shifting gears once the tractor has moved past the start mark is not permitted. No use of torque amplifiers will be permitted.

19.    Two tries will be allowed to start the sled, providing the initial pull does not exceed the fair start mark of 50 feet.

20.    Tires must be biased-ply and limited to tire sizes available in 1960. Radial tires will not be permitted.

21.    All tractors subject to Tech Crew inspection at Tech Crew's discretion.

22.    No use of alcoholic beverages. Subject to disqualification by Tech Crew.

23.    All tractors are required to have a minimum of one working brake which will hold tractor in position on the scale and/or stop tractor from rolling.

24.    All tractors weigh, then pull.

25.    No pulling with tractors that have engines adapted. **Go to Teulon**

26.    "Open" antique demo pulls may be allowed at Tech Crew's discretion.
a.    Tractor must look antique.
b.    Original motor block and head "appearance wise".
c.    Tractors utilizing parts produced between 1960 and present that have been altered or adjusted to fit that particular tractor.
d.    Tech crew's word is final.

27.    Arborg Agricultural Society sanctioned event weight classes are as follows:
a.    4000 lbs and under
b.    4000 – 5000 lbs
c.    5000 – 6000 lbs
d.    6000 – 7000 lbs
e.    7000 – 8000 lbs
f.    8000 – 9000 lbs
g.    9000 – 10,000 lbs
h.    10,000 – 12,500 lbs